Human hair wedding dress by Liverpool's Thelma Madine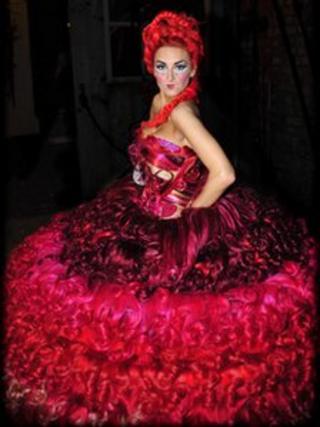 A wedding dress made from human hair has been created by a Liverpool dress designer.
The size 6 dress, which took over 300 hours to make, uses 250 metres of hair and weighs about 15 stone (95 kg).
It was made by staff at designer Thelma Madine's Nico dressmakers, which has featured on Channel Four's Big Fat Gypsy Wedding.
The dress, with a price tag of about £50,000, includes 1,500 crystals and 12 underskirts.
'Lots of hair'
The idea for the dress, which uses hair extensions containing over 10,000 individual hair wefts, came from a stylist, Ryan Edwards, at Liverpool's Voodou hair salon.
It was revealed at the Alternative Miss Liverpool pageant.
Mr Edwards said: "It's something that we've been thinking about designing for a while as it's just so different.
"I approached Thelma and her team to see if they would be up for doing it and they totally loved the idea.
"It took a team of about eight people just over 12 days to make and as you can see, we used a lot of hair.
"This was a chance for us to show our creativity and originality and it's a fantastic feeling to see the finished product.
"It's fair to say we'll probably not see another dress like it for a very long time."