Brian Regan murder trial: Brookside actor admits lies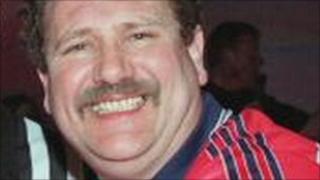 The former Brookside actor accused of helping to organise an underworld shooting in Liverpool has admitted he lied to police officers.
Liverpool Crown Court has been told Brian Regan, 54, was the driver for a gunman who killed Bahman Faraji, 44, outside the Belgrave Arms in Aigburth.
During cross-examination, Mr Regan admitted having asked his girlfriend to provide him with a false alibi.
Mr Regan, who played Terry Sullivan in the Channel 4 soap, denies murder.
He is on trial alongside Edward Heffey, 40, Lee Dodson, 42 and Simon Smart, 32, who are all from Liverpool and deny the same charge.
Mr Regan made the alibi admission during cross-examination by a barrister acting for Mr Heffey.
The actor told the court that he had tried to get his girlfriend Christine Line, 48, to lie to the police saying she was with him on the night of the killing.
Regan came up with the plan on the "spur of the moment" when he and Ms Line were sitting in the back of a police car after their arrest.
'I was scared'
Stephen Riordan QC, defending Mr Heffey, said: "You and Christine were cooking up a false story in the back of the police car?"
Mr Regan replied: "I was. I was asking her to lie for me. She could see I was scared, upset and worried."
The actor agreed that the "story" would give him "a complete alibi" for the murder time.
Mr Riordan put it to Mr Regan that his first statement to the police was "pretty much a pack of lies?"
Mr Regan responded: "Yes."
He told the jury that he knew nothing about the shooting but admitted that he had been involved in delivering drugs.
Mr Regan claimed that he was too scared to go back to his flat after the shooting.
"I was scared of going back there because a man had been shot. I did not know whether the passenger I had in my car had anything to do with it."
The court heard that Mr Regan told police he feared he would be shot if he told them anything or named Mr Heffey as the man who had been in his car on the night of the murder.
"I was scared that something would happen if he knew I had given his name in," Mr Regan added.
Mr Faraji, a nightclub doorman from Liverpool, was shot in the face on 24 February.
The trial continues.