Setback for restoration of Wirral gas supply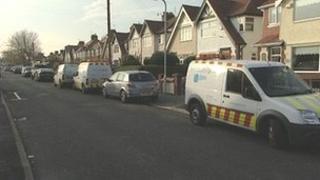 Engineers have suffered a setback while working to restore gas to residents left without supplies after a water mains burst in Wirral.
Water entered the gas network in Moreton and Leasowe after a burst at the junction of Hoylake Road and Danger Lane on 11 November.
It led to 2,300 homes and businesses having their gas cut off, and 49 were still left without supply on Friday.
National Grid said some homes had lost supply due to water in the network.
A company spokeswoman said: "Unfortunately, with the finishing line in sight we had a bit of a setback today when a number of properties which had had gas supplies restored went off gas again.
"This was due to water moving around the system and causing fluctuating gas pressures. Our engineers have been working throughout today and tonight to remove this remaining water and get people back on."
Engineers have pumped nearly a quarter of a million litres out of the gas network.
Compensation payments
The spokeswoman said the utility provider are also reconnecting to 78 homes where the water went into the internal pipework.
The utility firm said it had 80 engineers at the scene working to rectify the problems.
Many of the properties affected have been reconnected, but some residents in Reeds Avenue East remain cut off.
National Grid said it would make compensation payments of £30 to households and £50 to businesses for every 24 hours they had been without gas.
Ian Palfreyman, National Grid's Head of North West Network, said: "We would like to thank everyone for their continuing patience and goodwill. We are doing everything we can to get people back on gas as soon as possible."