Ethel Austin: 1,200 former staff denied share of £1.5m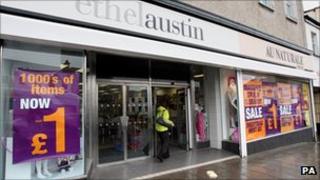 Unions have said they are "bitterly disappointed" that 1,200 Ethel Austin staff will miss out on redundancy pay.
It follows a decision by an employment tribunal in Liverpool that only 500 of 1,700 workers laid off by the budget clothing chain will be compensated.
It ruled the 500 will share "collective redundancy" worth up to £1.5m.
The Usdaw union said the tribunal ruling that stores which had fewer than 20 staff did not have to compensate them was "plainly wrong".
Former staff at the company's head office in Knowsley, Merseyside, and at a central London store will now receive compensation of eight weeks' pay.
'Gaping loophole'
About 1,700 people lost their jobs when the company collapsed, with the closure of 186 stores.
John Gorle, national officer at the Union of Shop, Distributive and Allied Workers, said: "I'm bitterly disappointed the tribunal limited the scope of the award.
"The fact that many of our members won't be compensated just because their store had less than 20 staff is plainly wrong and shows the gaping loophole and injustice of the current legislation.
"1,700 employees were made redundant from the same company for the same reason, so to suggest only 500 of them constituted a collective redundancy is nonsense.
"We are taking further expert legal advice and if we can appeal against the judgment we will do so."
Ethel Austin, which went into administration in February 2010, was bought by Ashloch Ltd earlier this year and continues to trade under the same name.