Praise for 'relentless' detective Stephen Hopkins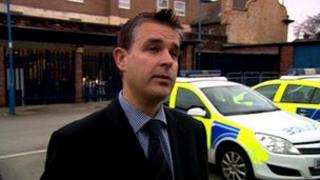 It used to be said the Mounties always get their man.
But now a Cheshire detective has been honoured for his similarly dogged work on a case the Crown Prosecution Service had decided to drop.
Det Con Stephen Hopkins, from Warrington, bought law text books, contacted academics and studied in his own time to find a way of prosecuting a robber who attacked an 85-year-old man in his home.
Edwin Stout, who had cancer, never recovered from the raid by a man and a woman and died five months later in a care home.
Contacted professor
The problem for prosecutors was that before his death Mr Stout said he did not want to pursue the case. And once he was dead it lost its only witness.
Step forward Det Con Hopkins.
"All the evidence we had was hearsay based on what he told his family," said Mr Hopkins.
"I went away and in my own time started studying the law on hearsay, human rights and the Criminal Justice Act and looked for ways to try and prosecute the case basically," he added.
The officer contacted a Cambridge University law professor who had written one of the law books he had purchased.
Eventually he was able to compile a 17-page dossier explaining why the CPS could pursue the case.
The CPS was persuaded to take the case up again and in 2010, one of the raiders - a woman - pleaded guilty and was jailed for four years.
'Morse like'
Mr Hopkins' boss Ch Supt Richard Strachan said he was full of admiration for his officer's devotion to duty in a case which became reminiscent of a fictional detective story.
"This is an excellent detective case, it is a little bit like an episode of Morse but this is reality and there is that element of commitment to do the best we can for the victims of crime," he said.
Mr Stout's granddaughter Julie Drabble said his family were extremely grateful for the detective' s efforts.
"He is one in a million, he really is. He never gave up, when the CPS wanted to drop it he battled on and bought law books. Well done Steve," she said.
Mr Hopkins' colleagues have nicknamed him "Relentless Cop" and he was runner-up in the Police Federation National Detective Awards in recognition of his work.
But as far as he is concerned the case is not closed as he still wants to catch the male robber involved in the incident.