Huyton shop worker stabbing: Boss's tribute to dead man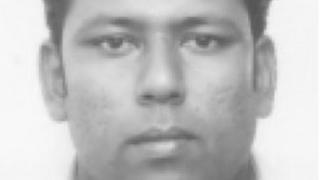 Tributes have been paid to a man who was murdered as a he worked in a Merseyside shop.
Mahesh Wickramasingha, 30, died after being stabbed in the neck while working at Stanley News on Kingsway in Huyton last week.
Shop owner Dr Gunapala Welhengama said the father-of-two had come to the UK to support his family back in Sri Lanka.
"He was a very likeable man, very charming, very courteous to customers," said Dr Welhengama.
"He was very friendly and always with a smile and very hard working."
Appeal for driver
Dr Welhengama came to the UK a year ago to support his wife and children, aged six and three.
Detectives investigating the murder who appealed to the drivers of an Astra and a white Ford Transit van to come forward say the Astra driver has contacted police.
But they are still want to hear from the driver of the white Ford Transit van, seen driving along Rupert Road at around 21:00 GMT, on 29 November.
Det Supt Ian Kemble, who is leading the murder investigation, said: "I would like to appeal directly to this driver to come forward to the police.
"The driver may feel that they have not seen anything significant, but I would urge them to let us make that decision - they could hold information that proves vital to us finding the person responsible and putting them before the courts."