'Wolf fetish' sex offender Kristian Timmerman jailed for grooming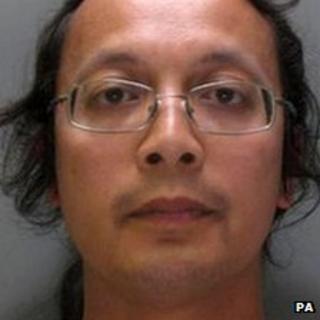 A sex offender who moved to Merseyside from the Netherlands to contact a 12-year-old girl directly has been jailed.
Kristian Timmerman, 32, who had a fetish for dressing as a wolf, moved to Wirral to complete "a sophisticated operation of grooming".
Judge Nicholas Woodward said he had "used determination and subterfuge" in his attempts to contact the girl.
Timmerman, who admitted sexual grooming, was sentenced to 22 months at Warrington Crown Court.
Cartoon character
The Indonesia-born 32-year-old made contact with the girl after she set up a personal profile on the video-sharing site, YouTube.
He spent months sending her flattering messages and cartoons he had created, which featured a character with her name in the company of a wolf called Humphrey.
Humphrey was Timmerman's username on the site. Police found he had a fetish for dressing up as a wolf to perform sex acts on animals.
Prosecutor Ray Herman said the grooming "was subtle, he said nothing directly sexual to her and there was nothing sexual in the cartoons".
"But grooming it was; he told her she was beautiful and he loved her.
"They were wholly inappropriate comments from a 31-year-old man to a girl of that age."
'Unhealthy and unnatural'
After moving to Wirral in April, Timmerman moved into a B&B near his victim's home.
Despite not being given her exact address, he used photographs of his victim's pet dog to work out where she lived and was twice seen cycling past her house.
Timmerman went on to leave items in the girl's back garden, including Easter eggs, a toy dinosaur, money, letters and a USB memory stick.
The girl's parents contacted the police after reading the letters.
Timmerman was arrested at the B&B, where police recovered a laptop, memory stick and a rubber costume with a wolf's head.
Judge Woodward said Timmerman had pursued his victim "through her innocent and natural interest in animals".
"You have the same interest but for you it was both unhealthy and unnatural," he said.
"This was a sophisticated operation of child grooming in which you used planning, determination and subterfuge to achieve your goals.
"That is reflected in how you were able to identify her address despite her intention to prevent that happening."
Timmerman also pleaded guilty to possession of extreme pornography and was sentenced to four weeks to run concurrently with his 22-month term.