Traffic warden 'honoured' by peregrine falcon rescue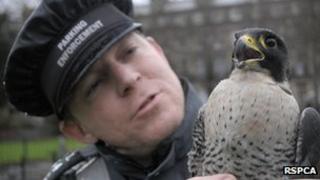 A Merseyside traffic warden has said that rescuing a peregrine falcon while on duty was an "honour".
The falcon was found by Lee Gallagher while he was working in Birkenhead in November.
He took the bird, which was in a "very confused" state, to the RSPCA Stapeley Grange wildlife centre in Cheshire.
Staff there spent a month nursing it back to health before Mr Gallagher returned on New Year's Day to release it back into the wild.
The 40-year-old said he was very happy that it had recovered as he had been very worried about the bird when he found it.
"It looked very confused out there in the road and I think the bird may have hit a wall and fallen due to the fierce rain, which was almost horizontal," he said.
"I am used to handling birds so knew how to approach with my jacket as a shield, but I was very surprised the falcon didn't try to peck me or attack in any way.
"It was as if he knew I was there to save him and just stayed in my arms until I got him to the car and then let me stroke the back of his head.
"To see a bird like this in the distance in the wild is one thing, but to actually get so close, have the honour of rescuing it, and then be there as it makes its way back to where it belongs was a once in a lifetime experience.
"It was like all my Christmas presents rolled into one and the best new start to the year for me and him.
"It is nice to show that us traffic wardens don't always deserve the bad reputation we have - some of us have a soft side."
The RSPCA's Andrew Smith said the bird had been in a bedraggled state when it arrived at the centre and that it was "fantastic" that Mr Gallagher had rescued it.
"Lee didn't get into a flap when he found this bird and had the calm of mind to pick it up and bring it to us," he said.
"It was in quite a bad state and would have struggled had he left it where he was."