Council cuts are 'heartbreaking'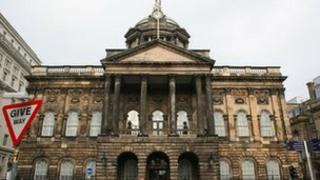 Deciding which council services to target in budget cuts was "heartbreaking", the deputy leader of Liverpool City Council has said.
The city needs to save £50m from its budget for 2012/13.
Among the cuts are school uniform grants and funding for young people with mental health problems.
Paul Brant, cabinet member for finance at the Labour-run council, said councillors had aimed to cut "lower priority areas".
The council is to also start charging for the Bulky Bob large household waste collection service and reduce its funding to arts and cultural organisations by 10%.
The cuts were approved by the city's cabinet and will will be considered by the full council on 18 January.
The report to the council's cabinet warned that the city's financial position could worsen from 2013 if its level of funding from government changes and it may be necessary to raise the level of council tax.
Mr Brant said: "Most of what the council spends goes on protecting vulnerable people.
"Almost three-quarters of expenditure goes on those highest priority areas.
"It's just not possible to bridge this [budget] gap without affecting some of these services.
"However we have targeted the savings towards lower priority areas. We have shielded vulnerable communities and people from the worst affects of these cuts.
"They have not been left unscathed but they have been shielded.
"There have been some really difficult heartbreaking decisions for us as councillors none of which we would have wanted to have to take."
Liberal Democrat for Cressington Ward in South Liverpool Paula Keaveney said: "The proposed removal of the school uniform grants is a relatively small sum of money in the whole council budget but is made up of sums that mean a lot in those deprived families that will depend on this money.
"Surely something less harmful could have been found instead of this particular saving."
She also feared that bringing in a charge for Bulky Bobs could lead to an increase in fly tipping.
And talking about cuts to young people's mental health service, she said: "We have concerns about reductions in this area as we know the vital work that this service does."