Liverpool singer records album with Paul Weller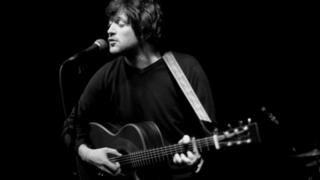 A musician from Liverpool has recorded his latest album with Paul Weller.
Steve Pilgrim was recording 'Pixels and Paper' in Weller's studio in Woking, Surrey when the former Jam and Style Council frontman offered to play on three of the tracks.
Mr Pilgrim, who has played the drums in Weller's touring band since 2008, said he enjoyed recording material with the established musician.
He said: "Paul Weller is very open to being creative and he knew I always did my own material, so when the time came and I asked if he'd like to play on a track, he didn't have to think about it really. He was just okay about it."
Mr Weller plays piano, electric guitar and sings on tracks 'Firecracker', 'Explode the Sun' and 'The Closing Moments' on the ten track album which was released last month.
"It was different to have that role reversal," Mr Pilgrim added.
"I mean, normally he musically directs me and I was having to say, 'can you back off a little bit here' or 'can you emphasis this line', so that was quite odd, but I liked it.
"I don't mind telling people what to do."
'Warts and all'
Pixels and Paper is Steve Pilgrim's third release, featuring songs about love, relationships and "abstract social commentary about the nature of being a modern man".
Mr Pilgrim added: "He (Weller) had a couple of his kids there with him while we were recording so he was out in the garden playing football with his young lad and then the next minute he'd be in doing a couple of passes on the tracks.
"But then, the whole nature of the record is that it's a 'warts and all' sort of approach, and when it's your job and you're as talented as that, it just comes easily."
Other collaborators on the record include Bill Ryder Jones, John Smith, Martin Smith and Rachel Wright.