Gang behind Liverpool gun and grenade attacks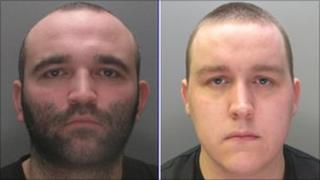 Two men being tried in their absence were behind a number of gun and grenade attacks in Liverpool over a two-year period, a court has heard.
Tony Downes, 25, of no fixed address, and Kirk Bradley, 26, of Stockbridge Village, were said to be part of a gang "terrorising the people of Liverpool".
The two men escaped from a prison van in July 2011.
They were being transported to a trial over the attacks at Liverpool Crown Court when they absconded.
They are charged with conspiracy to possess firearms with an intent to endanger life and conspiracy to damage property with intent to endanger life at Woolwich Crown Court.
A third man, Colin Fitzgibbon, 41, of West Oakhill Park, Liverpool, who was in court, denies a charge of conspiracy to possess firearms with the intent to endanger life.
Mr Downes and Mr Bradley were allegedly linked to an attack where a grenade was left outside Liverpool manager Kenny Dalglish's home.
'Wild west scene'
Mr Dalglish was not the intended target of the attack.
Prosecutor Nick Johnson QC told the jury the attacks took place between January 2009 and January 2011.
He said: "This is about a gang who terrorised the people of Liverpool using hand grenades, industrial fireworks and firearms.
"They agreed to use firearms to endanger people's lives.
"Kirk Bradley and Tony Downes were good friends, blood brothers.
"We suggest that they are the main organisers and directors of a criminal gang in Merseyside."
In one incident, which he said was more in keeping with a scene from the wild west than suburban England, gunshots were fired between two men on an off-road motorbike and an Audi car, on the road from Stockbridge Village to Huyton.
A grenade was also thrown through the window of a home where a grandmother was babysitting for the night, the court was told.
In March 2009, a man was shot in the leg after being approached by two men in balaclavas as he used a telephone kiosk.
His injury was so severe that he had to have his leg amputated.
The trial continues.