Cricketers Club in Wavertree to have licence review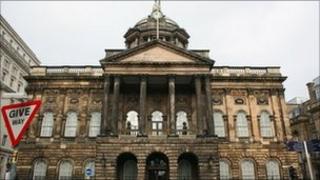 Liverpool City Council is being asked to consider revoking the licence of a club accused of allowing under-age drinking and anti-social behaviour.
The Cricketers Club, in Wavertree, which has been used by political parties including Labour and the British National Party (BNP), is due for review later this month.
Forty residents are backing a campaign by Labour councillor Jake Morrison.
A spokesperson for the club denied selling alcohol to children.
The club, in Long Lane, hosted a BNP conference in October 2011 which prompted protests by anti-fascist groups.
Mr Morrison, who was among the protesters, said: "The club has applied for a 3am licence which in a residential area is not acceptable."
'No problem'
He also claimed that alcohol had been sold to young people on the premises and that there had been assaults inside the club.
"Residents and myself feel they are an irresponsible licensee."
A spokesman for The Cricketers said: "We have cameras that cover all our bars and you can see who has been served. Our bar staff dispute that they ever served anyone under age.
"This year alone we've had the Labour party, with Councillor Anderson [Leader of Liverpool City Council] and all his councillors at a party, the Liberals use it quite a lot and the BNP have used it and there has been no problem."
A Merseyside Police spokesperson said: "The force can confirm it will be putting forward representation at the upcoming licensing hearing for the Cricketers on Long Lane in Wavertree.
"As the hearing has not taken place, it would be inappropriate to comment any further."
The licensing committee will meet on 30 January.
Correction 30 January 2012: This story has been amended to remove an incorrect claim that the Cricketers Club was convicted for selling alcohol to young people and criminal activity.