Wavertree Cricketers Club licence decision 'political'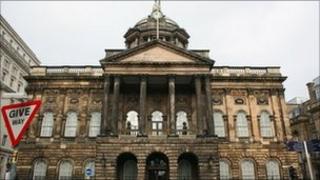 Owners of a club in Liverpool have accused councillors of a "politically-motivated decision" after they imposed strict conditions on its licence.
They claim The Cricketers Club in Wavertree was punished for hosting a British National Party (BNP) event.
Allegations of under-age drinking and violence saw an earlier closing time and tighter security imposed.
But Licensing Committee chair Councillor Christine Banks said it was listening to police and residents.
The club, which denies the claims, said it would appeal against the decision.
Residents living near the club on Long Lane have complained of noise, anti-social behaviour and criminal damage caused by people leaving late night functions.
'Based on hunch'
Merseyside Police also told the meeting it had evidence of assaults, disorder and the sale of alcohol to children inside the premises.
A special licensing meeting of Liverpool City Council has now ruled the club must shut by midnight, install ID scanning equipment and employ two registered door staff for each of its four rooms.
The Cricketers Club hosted a BNP conference in October which prompted protests by anti-fascist groups. It has also been used by other political parties including Labour, which run the city council.
Club solicitor Richard Williams said he would be lodging an appeal on behalf of the club's owners.
He said: "I think it is a politically-motivated decision based on the fact that the club had allowed the BNP their national AGM there and I don't think it was based on evidence, I think that a lot of it was based on hunch.
"I think that the decision was pre-determined prior to the hearing from my reading of the situation."
But Councillor Banks rejected this saying: "I told all of the councillors to ignore media reports of this club and just decide on the evidence before them from the police and local residents.
"Hand on heart this was not a political decision."