Warren Bradley: Ex-Liverpool leader faces perjury charge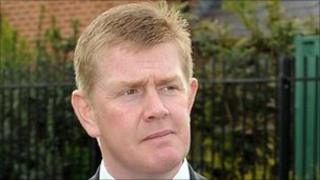 The former Liberal Democrat leader of Liverpool City Council has been summonsed to appear in court to face a charge of perjury.
Warren Bradley, 45, of Woodsorrell Road, Wavertree, stepped down as leader of the city's Liberal Democrat party last April over electoral fraud claims.
He will be charged under Section 5 of the Perjury Act which relates to false statutory declarations.
He is due to appear at Liverpool City Magistrates' Court on 9 March.
If convicted he could face up to two years in prison, a fine, or both.
A Merseyside Police spokesman said: "The summons follows a police investigation into a complaint referred to the force in April 2011.
"Following that investigation, a file of evidence was passed to the CPS, which took the decision to prosecute."
Mr Bradley was suspended from the Liberal Democrats in April 2011.
He recently announced he would stand as an independent candidate for re-election in May for Liverpool's Wavertree ward.
A Liberal Democrat party spokesperson said that Mr Bradley had now been "permanently excluded" for breaking party rules by standing as an independent.
The Lib Dems lost control of Liverpool City Council to Labour in 2010.