St George's Hall Liverpool hosts first weddings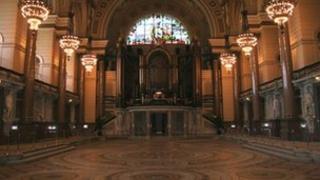 Liverpool's St George's Hall is holding its first wedding ceremonies since it became the base for the city's registrar services.
Pat Dobie, superintendent registrar for Liverpool, said it was "fitting" that the first weddings would be held on Valentine's weekend.
Registrar services have moved to the hall as part of a cost saving measure.
The city's coroner's court and citizenship ceremonies will also be held in the building.
Frank Prendergast, Lord Mayor of Liverpool, said: "St George's Hall is a jewel in Liverpool's crown and it is fitting that this new location can now be used as the perfect setting to the biggest day of many couples' lives."
A Grade I listed building, St George's Hall opened in 1854 as a dual purpose civic venue holding the city's court rooms and concert hall.
It includes an early example of an air conditioning system and has a Minton-tiled floor in the hall's main concert room.
The hall was reopened in 2007 by Prince Charles following an extensive £23m refurbishment.