Wirral council 3% council tax cut plan passed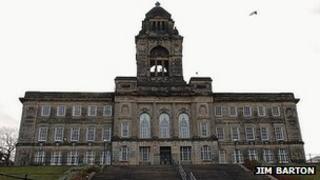 Plans to cut council tax by 3% have been passed by Wirral Borough Council.
The Conservative-led cabinet, which ousted the Labour administration two weeks ago, had its budget passed with support from the Liberal Democrats.
Council leader Jeff Green believes the cut will encourage growth and put money back into people's pockets.
But Labour group leader Steve Foulkes said it was a desperate measure designed by the two parties to buy votes in May's council elections.
'Own decisions'
Mr Green said people should have control of their own finances.
"The council has no money of its own," he said.
"The only money it has to spend is money we take out of people's pockets, and our view is that people should keep as much of their own money, to make decisions for their own families, as possible."
But Mr Foulkes said: "It's short-term, it's not got a focus on the future, and nowhere in any of their budget resolutions does it mention the fact that we are being asked to save another £78m due to government cuts.
"It doesn't recognise that and that was the elephant in the room."
The Conservatives ran the council until its Tory-Lib Dem coalition collapsed in May.
Mr Foulkes then led the council, which is in no overall control, until he lost a vote of no confidence last month.