Everyman Theatre Liverpool in shutter portraits search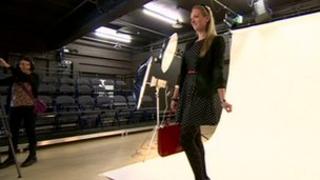 A photographer has started capturing images of more than 100 "exceptional Liverpudlians" whose portraits will be on the front of a new city theatre.
Silhouettes of 105 local people will be etched on to aluminium shutters at Liverpool's Everyman Theatre, which is due to reopen in late 2013.
Volunteer photograph sessions are taking place at Liverpool Playhouse.
Photographer Dan Kenyon will create the images on the metal panels using a controlled water jet.
The new building on Liverpool's Hope Street replaces the previous Everyman Theatre which closed in July 2011.
Mr Kenyon said: "This is a really exciting project for me as a photographer.
"My job is both to draw out the subjects' personalities but also fulfil the technical and compositional requirements of the manufacturing process for each individual shutter."
Selection of the final images for transfer to the shutters will be made over the summer.