Bahman Faraji murder: Three men jailed for life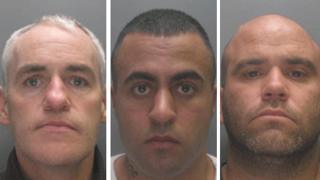 Three men have been jailed for life for the "calculated and cold-blooded" murder of a nightclub doorman.
Bahman Faraji, 44, was shot in the head outside the Belgrave public house in Aigburth, Liverpool, in February 2011.
Gunman Edward Heffey, 41, was jailed for a minimum of 35 years and Jason Gabbana, 29, who ordered the shooting, was ordered to serve at least 33 years.
Simon Smart, 33, who lured Mr Faraji to the scene, received a minimum term of 31 years at Liverpool Crown Court.
Former Brookside actor Brian Regan, who admitted being Heffey's getaway driver, was cleared of murder but convicted of perverting the course of justice earlier this year and has already been sentenced to four years and 10 months.
Heffey, Gabbana and Smart, all from Liverpool, were convicted of murder by 11 to one majorities.
'Cold-blooded'
Gabbana stood trial separately to the others because he was only arrested last August.
The trial heard Regan, of St Mary's Road, Liverpool, became hooked on cocaine and began dealing the drug to fund his habit after his acting career petered out.
The 53-year-old, who played Terry Sullivan in Brookside, admitted taking Heffey to and from the scene of the shooting but during the trial he told the jury he did not know his passenger was carrying a sawn off shotgun and was planning to kill Mr Faraji.
After he admitted driving the gunman, the court ordered security to be stepped up around Regan and security guards sat between him and the rest of the defendants.
He was also designated a "vulnerable prisoner" and held in an isolation wing in jail.
The judge, Justice Nicola Davies, said: "The murder of Bahman Faraji was as calculated as it was cold-blooded.
"This was a carefully planned and executed killing carried out upon the instructions of Jason Gabbana."
Mrs Justice Davies told Gabbana: "You chose to take the law into your own hands and nobody in this country is allowed to do that."
Addressing Heffey, she said: "You were the gunman who cold-bloodedly raised the gun to the face of Bahman Faraji and fired the shot which killed him."
She revealed he had previously been jailed for 12 years for acting as the getaway driver in two armed robberies.
"You chose to take on this role and you know more than most the consequences of firearm related crime," she said.
Smart, who used a pay-as-you-go mobile phone to make contact with Mr Faraji and lure him to the pub, was "central to the planning and execution of the murder," the judge said.
"You developed a relationship with Bahman Faraji as a result of which you were able to lure him to the place where he was to be killed by Edward Heffey," she added.
Speaking about the victim and his family, Mrs Justice Davies said: "Whatever has been said during this case, Bahman Faraji was a father and it is clear that his young son is devastated by his death."
She also paid tribute to the police and ordered that her praise for those involved in the case be passed on to the Chief Constable of Merseyside.