Liverpool prisoner artwork to go on display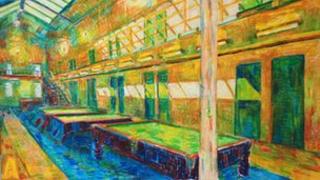 Artwork created by prisoners is to go on display in Liverpool.
The exhibition, Safety Net of Sky, will be curated by ex-offenders and includes artwork produced in prisons and by people on probation in the North West.
The work on show features entries to the 2011 Koestler Trust Awards, a prison charity that promotes the creation of high-quality art by offenders and secure patients.
The exhibition goes on display at the World Museum, Liverpool, on 30 March.
Chief executive of the Koestler Trust, Tim Robertson, said: "We know from experience that art has the power to change the lives of offenders who create it and we wanted to get some young people involved in actually curating an exhibition.
"The Liverpool team will be getting training and guidance from professional curators so will get a real feel for how exhibitions are put together.
"We can already see that they are creating an amazing exhibition."
Helen Robinson, head of communities at National Museums Liverpool, said: "The communities team at National Museums Liverpool are committed to involving people who might ordinarily be under-represented.
"Young ex-offenders might not normally have their voices heard and opinions acknowledged but this partnership project will give them that opportunity."
The exhibition runs at World Museum Liverpool from 30 March - 27 May 2012.