Bidston Moss Viaduct repair project completed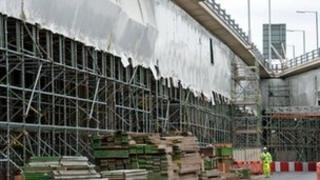 A two-year £90m project to improve one of the North West's busiest bridges has been completed.
The Bidston Moss Viaduct on the Wirral has been restricted to one lane for heavy goods vehicles during the work.
The 730m-long bridge carries the M53 over the A554 before the road reaches the Kingsway Tunnel.
The Highways Agency said the work had finished on time and £1.5m under budget.
Repairs on the concrete have been carried out on the underside of the 42-year-old structure with the steelwork repainted.
The road has been resurfaced, with improvements to lighting and drainage also completed.
The bridge is on a major route to and from Liverpool and is used by about 50,000 vehicles a day.
The scheme has been funded by the Highways Agency, the Department for Transport, Wirral Council and Merseytravel.
Graham Dakin, from the Highways Agency, said: "The strengthening work was vital to the future safety of the viaduct, which is now more than 40 years old.
"The project will allow the thousands of people who travel over it every day to continue to use it in the decades to come."