Wirral council Labour group leader Steve Foulkes steps down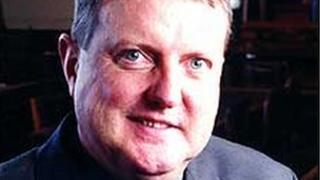 The former leader of Wirral Borough Council has resigned as leader of the local Labour party group.
Steve Foulkes said the "many demands" and "constant stress" of being leader had "taken their toll on my family life, my health and my work".
Mr Foulkes lost a no confidence vote as council leader in February.
He had been criticised over the handling of allegations of malpractice in residential and care homes contracted by the council.
'Right decision'
The allegations made by whistleblower Martin Morton led to an independent inquiry.
The council had to apologise to Mr Morton who was forced out of his job after revealing overcharging of vulnerable people in council care.
Conservative leader Jeff Green took over from Mr Foulkes as council leader following the no confidence vote.
Mr Foulkes said: "I have decided, after very careful consideration, to stand down as the leader of the Labour Group.
"This has not been an easy decision for me to take, but I believe it is the right one.
"I have spent eleven of the last twelve years as Leader of Wirral Council.
"By any measure, that is a long time in office."
Phil Davies has been appointed as Mr Foulkes successor as leader of the Wirral Labour group.