Heritage watch scheme launched in Cheshire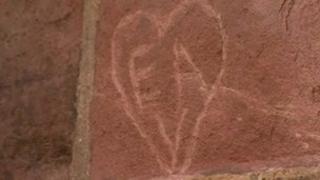 Cheshire Constabulary has launched a new scheme aiming to reduce vandalism of the county's historical sites.
The heritage watch scheme is an initiative involving English Heritage, local councils and police.
It encourages volunteers to report crimes like vandalism and metal theft from historical buildings and monuments.
The launch took place at one of the county's 5,600 heritage sites - St John the Baptist's Church in Chester.
The Rector of Chester, Reverend David Chesters, said vandalism to the church, including broken windows and graffiti, made him feel "very unpriestly".
"What they don't realise, is that half the time they're damaging their own heritage," he said.
Simon Thurley, from English Heritage, said the properties affected were "the sorts of buildings which commemorate things that are important in people's lives", adding: "I think that's a really low-down, mean thing to do".
The first watch group has been set up in Tarvin, where one volunteer said it involved "being nosey and phoning up when you have suspicions".