Paul McCartney's LIPA buys John Lennon's art college building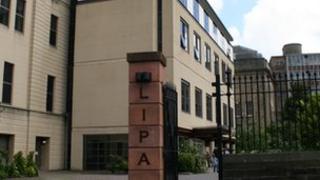 A performing arts school co-founded by Sir Paul McCartney is to purchase John Lennon's old art college building.
Liverpool Institute of Performing Arts (LIPA), plans to buy the former Liverpool College of Art for £3.7m to expand its teaching space.
The Grade II listed building is adjacent to LIPA's Mount Street site.
LIPA opened in 1995 in Liverpool city centre in what had been Liverpool Institute for Boys, the school attended by Sir Paul and George Harrison.
It currently trains 693 degree and 62 foundation certificate students as well as offering part-time performing arts classes for young people.
'Historic building'
John Lennon attended The Liverpool College of Art in the 1950s along with his future wife Cynthia and Stuart Sutcliffe, The Beatles' original bassist.
The building is currently owned by Liverpool John Moores University.
LIPA plans to use the additional space for dance tuition and a studio theatre.
Mark Featherstone-Witty, LIPA CEO and founding principal, said: "There are sound business reasons why we are buying the building next door, but there's no denying the romance of bringing together two buildings where three Beatles once did their learning.
"I'm glad that this historic building will not become yet another boutique hotel or, yet again, be turned into flats.
"It'll be used for what it was intended: learning. I've mentioned this to Paul, who is supportive.
"The Liverpool College of Art developed historically from The Liverpool Institute for Boys, when the art classes outgrew their allocated space.
"Now, for the second time, both buildings are united and we'll ensure this unity will last."