Wavertree Cricketers Club opening hours restricted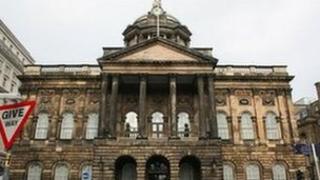 A Liverpool club has had its opening hours restricted and tighter security imposed following a licence appeal.
The Cricketers Club, in Wavertree, had challenged a council licence change saying it was "politically motivated".
Following a two-day hearing, a district judge overturned a ban on 18th birthday parties but ruled the club must increase security in the evening and close by 23:30.
The judge found no evidence of the sale of alcohol to under-age drinkers.
The Cricketers Club hosted the British National Party's annual general meeting over two days in October 2011, which prompted protests by anti-fascist groups.
The club has also been used by other political parties including Labour, the party which runs Liverpool City Council.
'Party atmosphere'
Following the BNP conference, a closure notice was served by police after it was discovered the premises did not have a valid licence.
Residents living near the club, on Long Lane, have complained of noise, anti-social behaviour and criminal damage caused by people leaving late night functions.
In a written ruling, District Judge Roger Lowe upheld a decision in January by the council's licensing sub committee to amend the club's closure time from 02:00 to 23:30 to reduce "low level anti-social nuisance generated by patrons".
The club had argued an earlier closure time "was not conducive to the party atmosphere" which the business had been set up to provide.
It said closing earlier would have "disastrous" financial implications and the venue, which had already laid off five staff, "may well have to close down".
The judge said a condition that the venue should not accept bookings for 18th birthday parties was "unnecessary and disproportionate" and a ban on under 18s being present after 19:00 was also not "necessary or proportionate".
He also said the club must provide two security staff for each function room holding an event after 19:30 and introduce a scanning machine for identification documents to deter under-age drinking.