Liverpool and Everton fans facing 'overcrowded' trains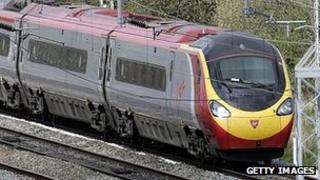 A train company has warned Liverpool and Everton football fans travelling to Saturday's FA Cup semi-final at Wembley they could face overcrowding.
A Virgin Trains spokesman said sales of unreserved tickets meant the firm did not know how many passengers would use its West Coast main line services.
He said longer trains and two relief services had been booked, but they had already been heavily reserved.
About 80,000 fans are expected at Wembley for the lunchtime kick-off.
Virgin Trains has laid on "1,500 extra seats on the route, with a further 900 seats on privately operated charter train services", with the company saying it was the most that could be provided on the early services.
However, the spokesman said services from Liverpool, Crewe and Warrington to the capital on Saturday had been heavily reserved and only passengers with reservations would be guaranteed seats.
He said because of the law prohibiting train operators from refusing to sell unrestricted tickets, Virgin would not know how many tickets had been sold for Saturday's trains until after the journeys.
Fans without reservations are being advised to take London services from Manchester or Stoke.
The spokesman confirmed Virgin's services from Liverpool to London on Friday afternoon had been overcrowded, with standard passengers having to be accommodated in first class.
'Dry trains'
Ch Insp Neil Moffatt of British Transport Police said the limited number of early services and the possibility of overcrowding meant fans should plan their journeys carefully.
"As the 12.30pm kick-off means there will only be a limited number of trains to travel down to Wembley, all fans should check any pre-booked tickets to ensure they travel on the correct service," he said.
"Once on board, we'd ask all fans to show the same behaviour we've seen so far this season and which saw Liverpool supporters travel to and from the Carling Cup final with relatively few issues."
He said fans returning to Liverpool later in the day would be travelling on "dry" trains.
"Alcohol is often a major contributing factor to anti-social behaviour and, as such, the decision has been taken that all services from London Euston to Liverpool will be dry," he said.
"Anyone deemed to be too intoxicated to travel will be refused entry to the trains."