Liverpool Cathedral marks Titanic centenary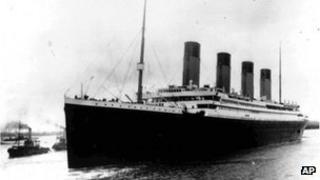 A service marking the centenary of the sinking of the Titanic has been held at Liverpool Cathedral.
The service, at 19:30 BST on Sunday, was held to commemorate the disaster, in which more than 1,500 people died.
The liner, which was registered in Liverpool, hit an iceberg on 14 April 1912 and sank the following morning.
During the service a soundscape - or audio recording - recalling that night, and including songs from that era, was played to the congregation.
The soundscape was put together by the cathedral and Liverpool Women's History for Schools Group.
The Bishop of Liverpool, the Right Rev James Jones, addressed the congregation and journalist Peter Elson spoke on the port of Liverpool, its past and its hopes for the future.
Liverpool was the headquarters of the White Star Line, the shipping company which owned Titanic.
The Red Ensign (the flag flown by merchant ships) and White Star pennant (emblem of the White Star Line) were presented as part of the service.
Bishop Jones said: "The Titanic was a national disaster that deeply affected the lives of many on Merseyside.
"The Maritime Museum exhibition and this cathedral service give us the moment to remember those both lost and saved and to cherish Liverpool's maritime history which the city is taking forward with great pride into the 21st Century."