Nurse's baby pillow invention used at UK maternity hospitals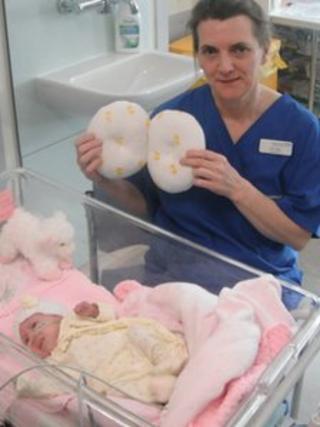 A pillow invented by a Liverpool nurse to help premature babies has been introduced at a number of maternity hospitals across the UK.
Previously nurses used rolled up nappies tucked under the heads of premature babies to help them breathe.
Ann Parry came up with the idea for her butterfly-shaped pillow while working in the neonatal unit at Liverpool Women's Hospital.
The hospital said the breathing aid will be marketed across Europe.
Ann Parry, a neonatal nurse for more than 30 years, started working on the design five years ago.
She received an award for research at the Liverpool Women's Focusing on Excellence awards.
Ms Parry said she had thought for a long time about how to help premature babies breathe more easily.
"We would use rolled up nappies and place it under the baby's neck to keep the airway nice and open," she said.
"Sometimes, babies get in a difficult position and forget to breathe."
Head flattening
The pillow will also prevent a condition known as "head flattening", which can develop after lying for too long in the same position.
The condition means the baby's head not only appears flat but can also lead to feeding problems and difficulty in developing normal hand-eye co-ordination.
The Liverpool Women's Hospital neonatal unit takes care of more than 1,000 babies every year.
Caroline Salden, Chief Operating Officer of Liverpool Women's NHS Foundation Trust, said the pillow was the trust's first product to be commercially developed.
"Ann has shown outstanding tenacity to not only develop a product, a positional aid, that benefits the babies in our neonatal unit but can now benefit any premature baby in the UK or beyond," she said.
"Ann has persevered over a number of years to eventually secure a contract to bring 'The Butterfly Pillow' into commercial production."
The pillow has been developed by the Liverpool Women's NHS Foundation Trust's Research and Development team in partnership with TRUSTECH, the NHS innovation service for the North West and Inspiration Healthcare UK who are marketing the pillow under the name nCPAP.
Royalties from the sale of the pillow will be paid to the trust and used to benefit future patients.