Merseyside bands release cassette for Record Store Day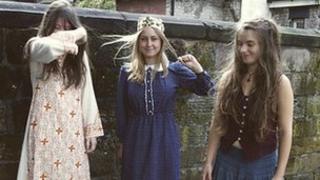 A cassette featuring some of Merseyside's most promising musicians is to be released to mark Record Store Day 2012.
Musicians on the Game Theory cassette, which will be released on 21 April, include Outfit, Forest Swords, Stealing Sheep, Bill Ryder-Jones, Clinic, Beach Skulls, Death at Sea, Mugstar and Kankouran.
The compilation released through Payper Tiger Records also features The Loud, Vasco da Gama, All We Are, Owls*, The Wild Eyes and Tsar Bomba.
The tape was put together by both Bido Lito! magazine and Payper Tiger Records, and comes with a gift voucher to spend in local record shops Probe, 3Beat and the Music Consortium Vinyl Emporium.
Magazine editor Craig Pennington said he wanted to give Record Store Day a local edge.
He said: "The idea behind it is that we want to celebrate the independent music scene and what's going on in the city, in a context of trying to put some cash through the tills of our three remaining independent record shops."
'Beautiful little package'
The cassette features a mix of signed and unsigned Merseyside musicians who have done well or are likely to in 2012, he added.
"There's 15 local artists featured on it altogether."
"We've got established names on there like Clinic and Bill Ryder-Jones, emerging artists like Forest Swords, Stealing Sheep and Outfit, and some of the best breaking bands of the current scene including The Loud, Vasco de Gama and Beach Skulls."
All of the cover and inlays have been screen-printed by Payper Tiger Records.
"It will be a beautiful little package," said Mr Pennington.
Wirral based electronic artist Forest Swords, aka Matt Barnes, has put forward an alternate mix of his track 'Hjurt' for the tape.
The musician, who plans to bring out a new record this year and has already been confirmed for slots at Bestival, The Great Escape and Primavera Sound, said that he felt flattered to be featured on the Record Store Day release.
"Game Theory is a great idea and it's very flattering to be asked to contribute to the first one," he said.
"I'd much rather buy this kind of locally produced and sourced release than one of the hundreds of limited edition national releases that labels are pushing out.
Talking further about his contribution to the tape, he said: "I thought it'd be nice to give a track that hasn't appeared anywhere before.
"This version of 'Hjurt' has been mixed through an old four track cassette recorder I have so it's a bit different to the original which was mixed digitally.
"I thought it'd be pretty appropriate for this Game Theory release."
Game Theory is available to pre-order from the Bido Lito! website and from the Payper Tiger website, and will be stocked in Probe Records, 3Beat and the Music Consortium Vinyl Emporium, on international Record Store Day on 21 April.
There is a launch party in Mello Mello at 1900 BST on Saturday featuring performances from The Wild Eyes, Owls* and Death at Sea.