Merseyside Police dogs to become tissue donors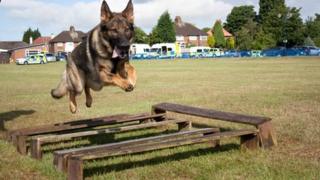 Police dogs on Merseyside are ready to provide injured animals with the gift of life.
They have become the first police dogs in the country to be signed up for a tissue donation bank.
When they die, the dogs' soft tissue and bone will be used in life-saving surgery to aid other injured pets.
The 60 animals who have been registered will be part of a pioneering project with the Veterinary Tissue Bank, the UK's first tissue bank for pets.
'Close bond'
Their handlers said it was a great opportunity to help other injured dogs.
Head of the unit Inspector Matthew Boyle said: "Our officers enjoy a very close bond with their dogs and place great emphasis on the quality of life these dogs experience.
"The entire section is behind this initiative, understanding that their dog will go on to give new life to a canine patient in need."
A typical case is Rusty, a search and rescue dog in the Dartmoor and Exmoor Rescue group.
During a road traffic accident he suffered a fracture dislocation to his leg - an injury that could have meant retirement.
Usually, when a dog needs a bone and tissue graft it is taken from elsewhere in their body, which is not only complicated but painful.
However, using donor bone, a vet stripped the small joints of cartilage and put a plate and screws in to align Rusty's bones, which were then encouraged to fuse using the graft.
The Veterinary Tissue Bank, set up three years ago in Wrexham, acts as a centre for donated tissue, which is processed into transplantable grafts then sent to veterinary clinics around the country and Europe.
Director Dr Peter Myint said veterinary science had been slow to catch up in the field of tissue donation.
"We are delighted that we are working with the police, especially because it is a difficult subject to discuss with people.
'Saved 1,500 lives'
"The most demand for tissue grafts is in cats and dogs - we've saved 1,500 lives so far.
"For humans, tissue transplants are fairly established - for vets, it's a different story.
"We will also be looking at cornea transplants in the future, which the clinics are desperate for."
The centre has also started to provide stem cells for animals to help horses with soft tissue injuries and dogs with joint problems.