Sea Odyssey Titanic giant marionettes in Liverpool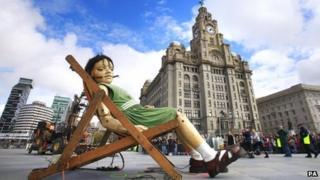 Giant marionettes have paraded around Liverpool city centre on the second day of a weekend event commemorating the Titanic disaster.
A 30ft (9m) giant girl and a 50ft (15m) giant man moved separately before meeting at the city's waterfront.
In a finale to the day, the giant man, assisted by a crane, leapt the city's 44ft (13.5m) Chinese arch.
The event is inspired by a 1912 letter written by a 10-year-old Liverpool girl to her father who died on the Titanic.
More than 250,000 people are expected to attend the three days of the Sea Odyssey production which concludes on Sunday.
'Spirit of imagination'
The little girl giant is accompanied by a papier mache puppet dog, Xolo.
Claire McColgan, Liverpool city council director of culture said: "We've never done anything on this scale before, not even in European Capital of Culture Year.
"This city loves great events. People have really got into the whole story and it has made everyone smile.
"It's great that the whole city has come together in this spirit of imagination."
The event's story has been created by Nantes-based French company Royal de Luxe as part of Liverpool's commemorations for the recent 100th anniversary of the sinking of the Titanic.
The event shows the girl, called Little Girl Giant, walking around Liverpool on a quest to learn news of her father, who was a stowaway on the Titanic.
The puppets will cover some 23 miles (37km) over the weekend. They will depart by sailing down the River Mersey together.
They are made from poplar, lime wood and steel, have eyes made from street lights and hair made from horse hair.
The dog puppet is made from steel and papier mache.
They are being moved by a team of 110 puppeteers and crane operators, who refer to themselves as Lilliputians, after the race of tiny people in Jonathan Swift's 18th Century novel Gulliver's Travels.
The giants have previously appeared in Nantes, Berlin, Santiago in Chile and Guadalajara in Mexico.
The Sea Odyssey is the final event to use European legacy funding from the Liverpool capital of culture year in 2008.
Many city centre and north Liverpool roads will be closed during the event.
A full list of road closures over the three days is on the Liverpool City Council website .
Liverpool Titanic Girl, a programme about the true story of the girl whose letter inspired the production, will be broadcast on BBC One North West at 19:30 BST on Wednesday.