Sea Odyssey giants capture Liverpool's heart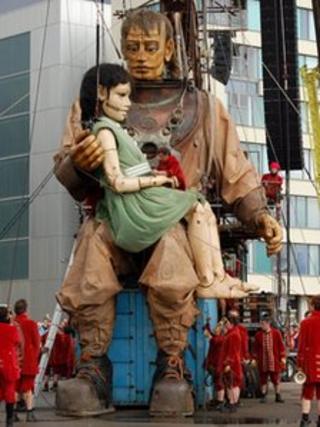 It began with a little giant girl snoring in a north Liverpool park, and ended with an eccentric Frenchman stripping to his long johns and throwing himself into the Mersey in celebration.
In between an estimated 600,000 people witnessed an enthralling 23-mile long three-day spectacle that captured the heart of a city.
Three giant marionettes, a 50ft (15m) man, a 30ft (9m) girl, and a 9ft (2.74m) dog, called Xolo, spent the weekend traversing the streets of Liverpool, in an event commemorating the Titanic disaster.
Sea Odyssey, the last production to use European legacy funding from Liverpool's 2008 Capital of Culture year, was inspired by a letter a 10-year-old girl posted in 1912 to her father, a bedroom steward on the Titanic.
'Spirit of childhood'
French street theatre company Royal De Luxe, based in Nantes, created a story of a giant who perished on the Titanic, his orphaned little girl giant, her diver uncle and a giant dog.
The girl's uncle had spent a century diving the wreck of the Titanic to retrieve her father's last letter.
The story was played out over three days, to the backdrop of some of Liverpool's best known landmarks.
It was led by artistic director Jean Luc Courcoult, who took an unscheduled dip in the Mersey at the end of the event.
He said: "I want people to find again the spirit of their childhood when they see these public images.
"I want there to be a real ownership of the story with the population of the city.
"There is a history and past to Liverpool that gives the city an identity and civic pride.
"It belongs to them and their family."
City regeneration
For children Sea Odyssey was like having a fairytale acted out at the end of their street. Emma Mousdale from St Helens took her three-year-old daughter Poppy to see the event on Friday.
"We came down to see the Little Girl but missed her so we thought we should come see the 'Uncle' as well," she said.
"Poppy is really excited about seeing the Dog with the Little Girl.
"It's so good for Liverpool to get something like this."
Crucially, for a city that has spent the best part of a decade sparking regeneration through cultural events, a significant chunk of the action took place in north Liverpool.
The neighbourhood around Stanley Park, where the event began, is ranked among the most deprived in the country.
A criticism of 2008's Capital of Culture was that too much was focused on the city centre and staging sections of Sea Odyssey in the north of the city was a deliberate response to this.
Sea Odyssey cost £1.5m, but the council predicts the economic benefits, both over the three days, and in the long term will far exceed the event expenditure.
Impact on tourism
Since announcing its bid for European Capital of Culture a decade ago, Liverpool has been positioning itself as an international tourist destination and it was no accident the weekend's iconic moments took place at some of the city's most photogenic locations.
About 20,000 jobs are supported by a tourism sector that brings an estimated £1.6bn into the city's economy each year.
Ged Fitzgerald, Liverpool city council chief executive, said: "There will be a direct impact on tourism and visitors to the city.
"The boost this gives is very important and the benefits will hopefully carry forward well into the future."
Watching the Sunday finale at Liverpool's Pier Head, with some of the city's most photographed buildings behind him, Paul Chapman, 64, from Wirral, said: "The whole of Merseyside seems to have come to see this today.
"I thought it was absolutely fantastic, like many people I liked the dog best of all, it was very animated and at one point came within six inches of my nose.
"It was excellent to stand on the streets of Liverpool and see thousands of people, all smiling.
"It's money well spent."
A special TV documentary - Liverpool's Titanic Girl - is shown on BBC One, Monday 30 April at 20.30 BST.