Everton goalpost handcuff man banned from football matches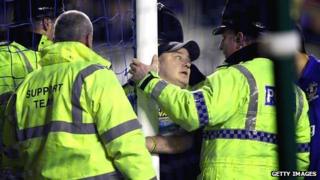 A man who handcuffed himself to a goalpost during a match between Everton and Manchester City has been banned from football matches for three years.
John Foley's pitch invasion forced the referee to halt play at Goodison Park for about five minutes on 31 January.
He was found guilty of entering the playing area of a football match at Liverpool Community Justice Centre.
The 46-year-old was also ordered to pay a fine of £300 and pay £350 prosecution costs.
The incident took place five minutes before the end of the first half of the match.
Both teams' managers used the pause to speak to their players as several police officers worked to remove the man from visiting goalkeeper Joe Hart's left-hand post.
The man was led away and Everton went on to win the game 1-0.
Foley is due to appear at the justice centre on Tuesday for a full hearing to discuss an interim anti-social behaviour order preventing him entering sporting events, which was granted last month.