Jaguar Land Rover Halewood sees 35,000 apply for jobs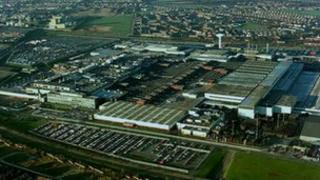 More than 35,000 people have applied for 1,000 new jobs at a Jaguar Land Rover factory on Merseyside.
The plant at Halewood announced it was creating the new roles in March.
The factory will move to a three-shift 24-hour operation employing 4,500 workers, due to strong demand for the Range Rover Evoque and Freelander 2.
More than 6,000 registrations were received within a day of the jobs being announced. The application process for the new posts has now closed.
Jaguar Land Rover Human Resource Director, Des Thurlby said: "We are very pleased with the quality of candidates applying for these new roles and more than 100 applicants have already started with us."
The new jobs include production operators, supervisors and engineers and will lead to a trebling of the workforce in comparison with three years ago.
All new employees will receive training towards an Intermediate (Level 2) Apprenticeship.
In December 2010 there were more than 14,000 applications for 1,500 new jobs as the plant began production of the Evoque.