Titanic rescue medals auctioned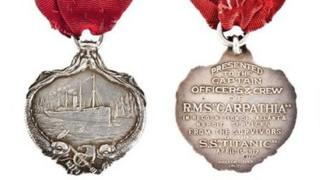 A medal presented to a Liverpool sailor who steered a ship to rescue passengers of the Titanic has sold for nearly £5,000 in London.
A similar medal cast in silver was bought for nearly £8,000, which was £3,000 more than expected.
Both medals were awarded to officers and crew of RMS Carpathia for their actions in rescuing over 700 survivors of the disaster.
J.J. Kirkpatrick received a bronze medal for his part in guiding the ship.
The Carpathia was sailing from New York to Europe when it received a distress call from the Titanic on 15 April 1912.
It immediately changed direction, and travelled nearly 60 miles to the ship's location.
Charles Miller Ltd, which held the auction, said it is thought 21-year-old J.J. Kirkpatrick was at the helm during the rescue effort.
When the ship arrived, the Titanic had already sunk.
'Heroic service'
The crew spent four hours rescuing survivors from lifeboats before heading back to New York.
The medals were awarded by the Titanic Survivors' Committee, chaired by Mrs J.J. 'Molly' Brown.
Junior officers received silver medals, while members of the crew were given bronze versions.
One of each were auctioned at the sale in West Kensington.
The medals include the inscription: "Presented to the captain officers and crew of RMS Carpathia in recognition of gallant and heroic service from the survivors of the SS Titanic."
The Titanic was on its maiden voyage from Southampton to New York when it stuck an iceberg and sank, resulting in the deaths of 1,512 people.