Thirteen people arrested in raids on Merseyside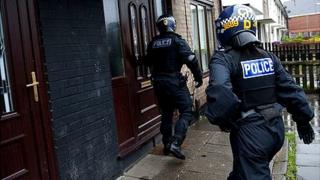 Thirteen people were arrested when 15 homes on Merseyside were raided in a crackdown on guns and gang crime.
Eleven men and two women were held on suspicion of unlawful possession of guns, arson and drug dealing following raids in Liverpool and Kirkby.
Seven guns and a "substantial quantity" of class A drugs were seized by officers.
Det Supt Ian Mulcahey thanked "members of the public who have taken a stand and given us information."
Of those arrested, two men, aged 18 and 19, are from Fazakerley, eight men, aged between 18 and 30, are from Croxteth and a 31-year-old man was from Kirkby. Two women, aged 19 and 39, from Croxteth, were also held.
"I would appeal to anyone who has information about those involved in gun crime, or where guns are being stored, to contact us," said Det Supt Mulcahey
"We will act on all information about gun crime to make our streets safer for our communities."