Liverpool elected mayor candidates take part in BBC debates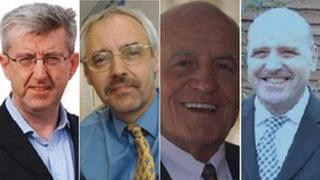 Candidates hoping to become Liverpool's first directly elected mayor have set out their policies in a series of debates on BBC Radio Merseyside.
The rivals took part in three debates on the Roger Phillips show ahead of the election on 3 May.
Adam Heatherington, for the UK Independence Party, declined an invitation to take part.
The party said it did not wish to share a platform with the British National Party or National Front.
In a statement, it said: "While Adam was eager to participate in the debate, we believe that it would be inappropriate for him to do so."
First debate
In the first debate, independent Liam Fogarty said electing a mayor was a real opportunity for Liverpool to take a big step forward.
He said he wanted to address big problems like unemployment, but also build alliances between organisations, faith groups and neighbourhood organisations.
"Liverpool is going to have to do more with less," he said. "And we can do that but we need to think big and act big and lose some of those small-time attitudes."
Also taking part in the first debate on 17 April were Liberal Democrat Richard Kemp, Liberal Steve Radford and Tony Mulhearn, for the Trade Unionist and Socialist Coalition.
Mr Kemp said Liverpool was functioning well below its potential level, and he had the contacts to put it back into the premier league.
"We have people from more than 100 countries living here and they have tremendous contacts back in their own countries," he said. "We need to open links with them for two-way trade opportunities."
Also focused on business, Mr Radford promised to set up business zones to encourage growth in Liverpool.
"Once we've got employment up then we won't have to worry about a lot of the housing and crime and a lot of the problems we have. It is the lack of employment that must be the first, the second and third priority."
Mr Mulhearn said he would campaign against cuts to services in the city.
"These cuts have got to be stopped now," he said. "The very fabric of everything that makes Liverpool a civilised city is under attack.
"I am standing to say enough is enough. There is an alternative to cuts and I'm going to campaign against these cuts."
Second debate
The second debate, on 24 April, included Labour candidate and city council leader Joe Anderson, Conservative Tony Caldeira, Green candidate John Coyne and Paul Rimmer for the English Democrats.
Mr Anderson said he wanted to bring business back to Liverpool and build "a city we can again be proud of".
He has promised to create 20,00 new jobs, build 5,000 new homes and 12 new schools.
"It's our job to make sure that local companies and local people get those jobs," he said.
Local businessman Mr Caldeira said he wanted to use his sales skills to sell Liverpool around the world.
"I want to use this local and global business experience to create jobs and growth in the city," he said.
"I'm going to help grow the economy, to put more police on the streets and reduce crime. To improve council services and freeze council tax, and make Liverpool the cleanest and greenest, safest city."
Mr Rimmer said he wanted to speak directly to the people of Liverpool and offer a "different, democratic vision".
"My promise is to keep council tax down and reduce council tax," he said.
"I'm going to prioritise the elderly, children's services and the sick, I'm not going to do what the Labour Party do and prioritise minority groups."
Green candidate Mr Coyne said he would focus on improving shared public areas of the city, as well as creating new jobs for young people.
He also plans to introduce a currency for Liverpool and a car club in the city centre.
"What matters most is the places that we share, like high quality streets and parks and the public transport," he said.
Third debate
The third and final debate, on 27 April, included National Front candidate Peter Quiggins, who also uses Tierney as his surname, Mike Whitby of the BNP and Jeff Berman of the Liverpool Independent Party.
Adam Heatherington had also been due to take part.
Mr Whitby said he would concentrate on putting local people first.
"I will bring investment into Liverpool by showing businesses what a fantastic investment Liverpool is."
He also pledged to investigate free Mersey Tunnel travel and the creation of a park and ride, to encourage more shoppers into the city.
Mr Berman said he would use his business experience to help entrepreneurs and support start-ups.
"I believe the mayoral position should not go to any politician who has political agenda," he said. "I have no political axe to grind."
He also said that if elected, he would set up a sports and social club to help tackle anti-social behaviour among young people.
Mr Quiggins, who took part in the debate on the phone, said he wanted to prioritise local people and reinvigorate the local economy.
"I'm going to take away divisive programmes and reinvest money back into our communities. That's my manifesto."
More details about the candidates can be found here.