St Helens steel firm fined after worker's hand crushed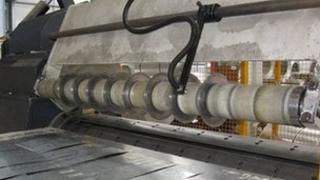 A Merseyside steel manufacturer has been fined £5,000 after a worker suffered serious injuries to his left hand when it was pulled into machinery.
The 43-year-old man from Thatto Heath was hurt at Hi Tech Steel Services Ltd on Neills Road, St Helens, last June.
He was working on a machine used to produce reels of thin steel strips when his hand was pulled in and crushed.
The company admitted two health and safety offences at St Helens Magistrates Court.
It pleaded guilty to failing to ensure the safety of its employees and failing to carry out a suitable assessment of the risks to workers.
Speaking after the hearing, the investigating inspector at the Health and Safety Executive, Christina Goddard, said: "One of the factory's employees suffered a serious injury to his left hand as a result of this incident, but it could have been much worse.
"He was lucky not to have lost part of his hand, or to have suffered permanent damage to the nerves, blood vessels or tendons.
"It should never have been possible for him to tape up the loose ends of metal strips in the machine while it could still be operated.
"But this had become standard practice at the company as no assessment had been carried out into how taping up the ends of the steel could be done safely."