Liverpool elected mayor: City region proposals 'beyond the pale'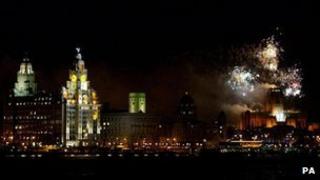 When constituents on Merseyside go to the polls on Thursday only the 319,758 who live within the boundaries of Liverpool will be voting for a directly elected mayor.
After proposals for a regional leader came to nothing residents in Sefton, St Helens, Wirral, Knowsley and Halton will all elect a traditional council.
Whoever of the 12 candidates for Liverpool's mayor wins, the powers they wield will be far fewer than those enjoyed by a US-style mayor.
University of Liverpool professor of politics Jon Tonge believes the city's relatively small size made this inevitable.
He said: "The city itself is not comparable in size to the American cities on which the government is fond in making comparisons.
"It is nowhere near the scale of New York, Boston or Chicago.
"As there are large urban areas surrounding Liverpool it would have made more sense to have a city region mayor and with the demise of regional government the obvious alternative is city regions."
'World class brand'
A 2011 report by former Deputy Prime Minister Lord Michael Heseltine and ex-Tesco CEO Sir Terry Leahy examined Liverpool's potential for growth and argued a directly elected mayor should cover the wider urban area.
It said: "We believe there would be a wide welcome if the plans were adjusted to create a directly elected leader across the six districts.
"The person concerned would need the necessary powers and resources appropriate for such a task and to incentivise the private sector to make its contribution."
While the electoral area would have expanded far beyond Liverpool, the Heseltine and Leahy report argued that "in marketing terms Liverpool is a world class brand" and "it would be perverse to do other than embrace the wider area within an identity recognised across the globe."
However, the idea of a city region mayor found little favour with politicians in areas like Wirral and St Helens, and never made it beyond the drawing board.
Prof Tonge believes while putting Liverpool at the centre was important internationally, locally it was key to killing off the proposal.
He said: "A city region mayor would have needed co-operation from each local authority and frankly there are a lot of people in Southport and Wirral who don't want anything to do with Liverpool."
"The idea of being governed by a city region mayor is beyond the pale for people who value their local autonomy.
"That can't just be washed away. If local government is about localism then people have a right to say 'I don't want to be part of this'."
Heseltine and Leahy put forward a case for "a significant devolution of power from central to local government" and "a more entrepreneurial spirit in that local administration".
Prof Tonge said without significant local tax raising powers the role "is much more about swapping titles than about swapping responsibilities."
'There for years'
Liverpool negotiated a deal with the coalition government to bring in about £130m of investment, along with an elected mayor.
A new enterprise zone will be set up and the mayor will chair an investment board with control of land, buildings and assets previously held by the North West Development Agency.
Prof Tonge said while any investment was welcome, it would not offset cuts in local government funding.
He said: "In real terms there's not much extra money in the pot.
"It's not going to attract greater EU investment because the EU recognises regions more than cities.
"Employers are more interested in the skills of a local workforce than they are in the title that the council leader has.
"As an economic unit a city region makes sense but in terms of devolution of power to local people it is a less convincing argument as you're moving powers upstairs to one person."
However by Friday morning Prof Tonge said there will have been one significant change in democracy in Liverpool, with the power of ward councillors set to wane.
"The mayor no longer needs a majority of the council to get an item through", he said.
"They would only need the support of a third of the council, two thirds could oppose and still a measure go through.
"The power of a backbench councillor is less and that would be magnified even more in a city region."
More details of the 12 candidates standing for Liverpool mayor can be found here .