Wirral majorettes cause noise 'nuisance'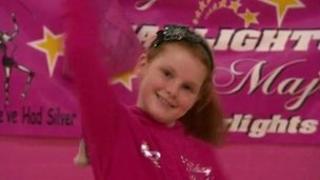 A majorette club in Merseyside faces closure after being told it was too noisy.
The Bethany Starlight Troupe, which practises two nights a week at a hall in Rock Ferry, Wirral, said it now has to raise money to buy double glazing.
Wirral Council said they found noise from the hall "at a level as to constitute a statutory nuisance".
Neil Hesketh, who runs the troupe, said it would be "horrible" to shut the club.
He added: "We've been here 20 years and never once had a complaint.
'Big family here'
"We need to get these windows sorted so we can keep the club open. The council has given us forms to put in for grants but you don't get them overnight.
"There are 60 kids here and they come down in the evening and it gives them something to do. It is one of the only places in the area for young girls and it is horrible to think that it would have to shut down.
"We're like a big family here."
A Wirral Council spokesman said: "We respond to all complaints and when we investigated this case we found the noise coming from the hall was at such a level as to constitute a statutory nuisance to people living nearby. As a result, we have a legal duty to act.
"We have given advice and guidance to the group on possible ways they could reduce the effects of the noise.
"In this way we hope to find a solution that resolves the complaint while also allowing the excellent activities of the group to continue at the hall."