Cammell Laird preferred bidder for Western Ferries contract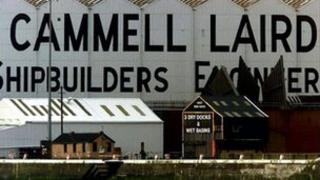 Full shipbuilding could return to the River Mersey after Cammell Laird shipyard was named preferred bidder for the construction of two ferries.
Work on the vessels, for Western Ferries Gourock to Dunoon route, could begin in June.
The ships are scheduled for completion in mid-2013.
They would be the first full vessels to be built at the yard since the Royal Navy submarine HMS Unicorn was launched in 1993.
Western Ferries managing director Gordon Ross said Cammell Laird's bid was "the most commercially competitive" and offered "the earliest delivery".
Italian cruise ship
Cammell Laird is currently working on building the flight deck of the HMS Queen Elizabeth aircraft carrier.
Linton Roberts, Cammell Laird managing director, said the new ferries "will be given yard hull numbers 1387 and 1388, indicating the strong tradition of shipbuilding at Cammell Laird to which they will be a worthy addition".
The Birkenhead yard was founded by William Laird in 1824.
After its closure in 1993, part of the site was used by Coastline Group as a ship refit and repair facility.
The firm went into receivership in 2001 when a contract to refit Italian cruise ship Costa Classica was cancelled.
Northwestern Shiprepairers & Shipbuilders took over the yard in 2005 and, using the Cammell Laird name, has since won several contracts to refit and overhaul ships.