Museum of Liverpool marks one million visitors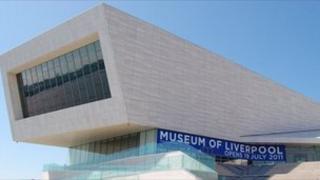 One million people have visited the Museum of Liverpool since it opened in July 2011, the museum has announced.
The waterfront building, chronicling Liverpool's story, had forecast 750,000 visitors in its first year.
David Fleming, director of National Museums Liverpool, said: "The response has been tremendous, not only from Merseysiders but from visitors to the city from all over the globe."
The museum was officially opened by The Queen in December 2011.
Mr Fleming added: "The people who live in and around Liverpool have always known it's a very special city, and now the Museum of Liverpool is the must-visit place to discover and celebrate the city's history and culture."
The museum's opening week in 2011 remains its busiest when it attracted 77,667 people.
In April 2012 around 60,000 people visited during the two-week Easter school holiday period and over 22,000 people visited during the Giant Spectacular Sea Odyssey event.
The museum has four main galleries looking at the development of the city and its global links, sporting history and its people.