Stockport Council leader Dave Goddard loses seat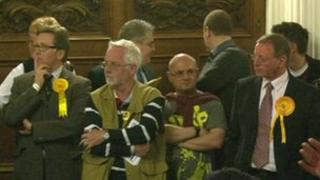 The Liberal Democrat who headed Stockport's hung council has lost his seat by 45 votes.
Dave Goddard, who had served as a councillor for 22 years, was beaten by Labour's Laura Booth.
The Lib Dems lost two seats in Bolton as Labour cemented its power and also took four seats off the Conservatives.
In neighbouring Bury, Labour extended its one-seat majority to 21 after winning seven seats off the Tories and three off the Lib Dems.
Labour's dominance of Manchester continued with the party increasing its number of seats.
Stockport is still a hung council, with the Liberal Democrats the largest party with 28 councillors.
In Salford the last three Liberal Democrat councillors, including party leader and mayoral candidate Norman Owen, lost their seats to Labour.
The leader of Salford's Conservatives Karen Garrido, who also stood for mayor, kept her seat although three of her colleagues lost theirs as Labour increased its grip on the council.
Counting started 30 minutes late in Rochdale after a power cut delayed the arrival of ballot boxes.
When the results were declared, the Liberal Democrats lost half of their councillors, with Labour taking five seats from them and five from the Tories.
The Liberal Democrats in Manchester lost their leader for the second year running with Marc Ramsbottom's defeat following Simon Ashley's last year.
Mr Ramsbottom said: "I'm obviously disappointed, I believe I've done a good job as a councillor. I've worked really hard to serve the people of the city centre in Manchester and I'm disappointed to lose.
"At the end of the day you can't argue with the ballot box. The people will decide and you have to go with that and move on."
The party is down to nine seats having lost 12 councillors. Labour's presence is now 87.
Sir Richard Leese, Labour leader of Manchester City Council, said: "It's the second clean sweep, two years on the trot.
"The margins appear to be bigger and I think Manchester people have said they very much want Manchester Labour to continue operating in the city in the way we have been for the last few years."
Kept control
Labour also kept control of Oldham adding seven Liberal Democrat seats and three formerly held by Conservatives as they saw their majority rise from six to 26.
Howard Sykes, the former Liberal Democrat leader of Oldham council, said: "I'm upset, I've lost some good colleagues who have been loyal servants to this borough and that's always disappointing.
"The election has really been a referendum on the coalition government and some of the difficult decisions it is making."
Labour's dominance of Tameside continued with the loss of three Conservatives. The party now has five councillors to oppose Labour's 52.
Labour also retained its rule in Wigan, increasing its seats by five to a total of 63.
However the Conservatives kept control of Trafford even though they lost three seats to Labour.
Residents in Salford have also voted for their first directly-elected mayor. The mayoral count starts at 11:00 BST.
All the latest election results are available at bbc.co.uk/vote2012