Mass marks five years since Madeleine McCann disappeared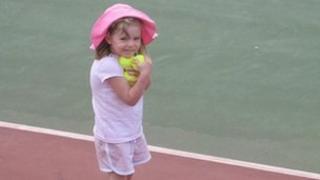 A church service marking the fifth anniversary of Madeleine McCann's disappearance has taken place at her grandparents' church in Liverpool.
Mass was said at the church of Our Lady of the Annunciation, Childwall, where parishioners have kept a weekly vigil since she went missing.
The then three-year-old went missing from her family's holiday apartment in Praia da Luz, in the Algarve, Portugal.
The Metropolitan Police said they have 195 new leads in the case.
But any decision to reopen the investigation rests with the Portuguese authorities.
The Mass took place at the church where Madeleine's parents Gerry and Liverpool-born Kate were married and where Madeleine's grandparents Brian and Susan Healy attend.
"We hope to God there will be a happy ending to this horrible, horrible story," said parish priest Father Tim Buckley CSSR.
Kate and Gerry McCann said on Wednesday they "have no doubt" Portuguese authorities will reopen the investigation into their missing daughter's disappearance.
The Scotland Yard detective leading a UK hunt for Madeleine told BBC Panorama last week police have the "best opportunity" yet to find the missing girl.