London 2012: The Wombats to headline Olympic concerts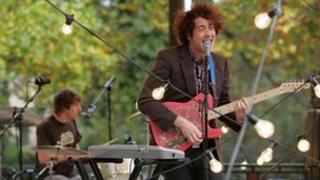 Merseyside band The Wombats will headline the Olympic Torch Relay Concerts in Liverpool and Bolton.
The trio will perform at Bolton's Olympic concert in Queen's Park on 31 May and Liverpool's celebration at the Pier Head on 1 June.
The events are part of 61 free evening shows taking place along the course of the London 2012 Olympic Torch Relay.
All 10,000 free tickets for the event on Liverpool's waterfront were booked within six hours of being released.
The two-and-a-half hour event also includes acrobatic displays and dance performances.
The torch will journey from Bolton to Liverpool on 1 June and will follow a route through Southport, St Helens before being carried through the Mersey Tunnel to Wirral.
The Olympic torch will arrive at the evening celebration in Liverpool via Mersey Ferry.
The torch visits Chester on 29 May and heads to Runcorn and Widnes on 31 May.