Sawn-off shotgun fond in Liverpool woodland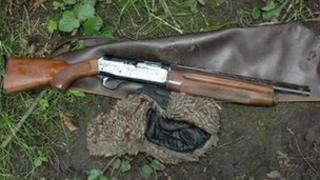 A sawn-off shotgun has been found in woodland in Liverpool, police have said.
The gun was found in a brown bag, off Aigburth Road, close to Otterspool Prom, by a couple walking their dogs at about 12:00 BST.
They contacted police immediately and the gun was safely recovered.
Det Insp Rob Hill thanked the couple for their vigilance adding that it was "despicable" to leave a weapon in a public space.
"I would like to reassure the public that we will be carrying out extensive forensic examinations and will be working hard to identify the person, or people, who have hidden this weapon," he said.
"We have found that offenders involved in serious and organised crime sometimes use public spaces to hide firearms so that they can distance themselves from the gun and avoid being caught by police.
"Leaving viable weapons in open public spaces is despicable and could put innocent members of the public at risk."