Joe Anderson officially sworn in as Liverpool's first mayor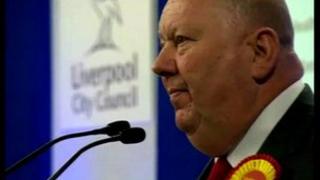 Labour councillor Joe Anderson has been sworn in as Liverpool's first directly-elected mayor.
He has formally signed his acceptance of office for four years at the Municipal Buildings in Dale Street.
Mr Anderson received 58,458 votes in the election on Thursday, giving him the necessary 50% majority of votes to win on the first ballot.
His nearest rival, independent candidate Liam Fogarty, came second with 8,292 votes.
Richard Kemp, who stood as the Liberal Democrat candidate, came third in the poll with just over 6% of the vote, which had an overall turnout of 30.8%.
Mr Anderson, the leader of Liverpool City Council, has already appointed key advisors.
He has appointed Sir Ian Gilmore to chair a commission into health, former Labour Education Secretary Estelle Morris to chair an education commission, and ex-Liberal Democrat Paul Clein will also sit on the panel.
Election rival Mr Fogarty is to take a position on the board of the council IT joint venture with BT Liverpool Direct Limited.
Former deputy council leader and Liberal Democrat councillor Flo Clucas will advise on European affairs.
Liverpool had been one of 11 due to hold a public referendum on whether or not to introduce a directly elected mayor.
However, councillors voted earlier to bypass the referendum and hold an election instead.