Liverpool Chandlers Wharf crane collapse: Firms convicted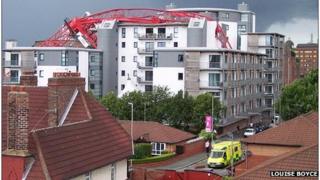 Two construction firms have been found guilty of breaching health and safety laws over the collapse of a crane in Liverpool that left a man paralysed.
The 200-tonne crane toppled on to an apartment block at Chandlers Wharf in Liverpool city centre in July 2009.
Crane driver Iain Gillham was paralysed from the waist down when he was thrown from the crane.
Bowmer and Kirkland Ltd and Bingham Davis Ltd are to be sentenced at Liverpool Crown Court on Friday.
Thrown from cab
The crane was involved in the construction of a hotel and flats at Kings Dock Mill in Tabley Street when it fell onto the completed Chandlers Wharf apartment block.
Part of the crane's counter-balance became embedded in the four-storey building and Mr Gillham, 55, from Whiston was thrown from his cab, falling 50ft (15 metres).
His injuries included a brain haemorrhage, fractured skull, spine fractures and a broken shoulder and he is now confined to a wheelchair.
Following a three week trial at Liverpool Crown Court, a jury convicted Derbyshire-based construction firm Bowmer and Kirkland Ltd and Liverpool construction engineers Bingham Davis of health and safety breaches.
More than 100 people had to be moved from their homes following the incident.