Edge Lane £65m road scheme officially reopened by minister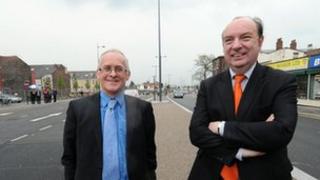 Transport Minister Norman Baker has officially reopened Liverpool's busiest road into the city centre.
The £65m Edge Lane scheme meant a year of busy roadworks for commuters travelling on the M62.
Norman Baker MP went on a tour of the area, visiting the new central reservation and junction.
It is hoped that, with the route now widened into a dual carriageway, journey times and congestion will be reduced.
Other improvements include the removal of the concrete footbridge and pedestrian crossing improvements.
Councillor Malcolm Kennedy, Liverpool City Council's cabinet member for regeneration and transport, said residents and the business community had spent decades asking for the area to be improved.
"The enhancements to the carriageway, alongside the new retail, residential and commercial schemes will provide a fitting gateway into the city," he said.