Jaguar Land Rover to create 300 jobs at Cheshire parts warehouse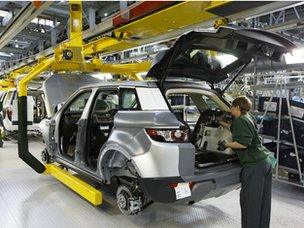 Jaguar Land Rover (JLR) has said it will create 300 jobs at a new parts warehouse in Cheshire.
It said the Ellesmere Port facility would open due to demand for its Range Rover Evoque and Land Rover Freelander 2, which are made in Merseyside.
The site is part of an extra £1bn investment by JLR in more than 40 UK suppliers over the next four years.
The other main suppliers to benefit are based in North Yorkshire, Worcestershire and the West Midlands.
The Ellesmere Port site was formerly used by Syncreon Logistics to supply the town's Vauxhall car plant but the warehouse is currently empty.
It will be managed for Jaguar Land Rover by logistics supplier DHL.
JLR chief executive Dr Ralf Speth said global demand in the Range Rover and Land Rover models had been so strong that they were able to boost investment in the supply chain.
"We are able to significantly increase what we spend with our suppliers, which is great news for the UK economy, and the thousands of jobs JLR supports in its supply chain."
Paul Dyer, Managing Director of DHL, said the North West region was fast becoming a major supply chain hub for the automotive industry.
In March 2012, car maker JLR announced the creation of 1,000 new jobs at its Halewood plant, where more than 35,000 people applied.
DHL will manage recruitment at the parts warehouse which will support production at Jaguar's Halewood plant.
Related Internet Links
The BBC is not responsible for the content of external sites.