Merseyrail trains to be replaced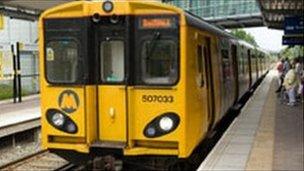 Plans are being drawn up to replace every train on the Merseyrail network at a cost of £350m.
The current fleet is now more than 30 years old and the trains are rented at a cost of £12m a year.
Operator Merseytravel said the expected lifespan of the trains and their leasing arrangements were set to run out in the next six years.
It said the cost of replacing the trains would be largely paid for by government grants and fares.
Merseytravel said it was looking to appoint a project manager to oversee the scheme, which should be under way by 2017.
Mark Dowd, Chair of Merseytravel, said: "The Merseyrail rolling stock replacement project will be one of the most significant schemes undertaken by Merseytravel over the next few years, with consequences that will extend for decades.
"Getting the right person to oversee the project and creating the right project governance arrangements are the first priorities on the way to successful delivery of new trains for Wirral and Northern Line passengers."
Related Internet Links
The BBC is not responsible for the content of external sites.